INVISALIGN
Invisalign is an alternative to traditional braces that uses invisible trays. These trays reduce visibility, inconvenience, and discomfort that can be associated with metal braces. Virtually invisible to others, Invisalign effectively moves teeth to get you the beautiful smile you deserve.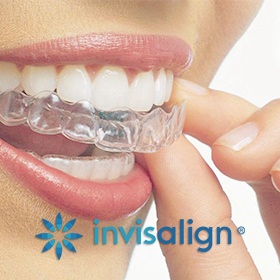 ---
What is Invisalign?
Your doctor will use special, 3-D imaging technology to get a precise image of your mouth; this will be used to generate the clear aligners that will move your teeth into place. Each aligner will move your teeth incrementally towards the final, desired position until treatment is over.

Invisalign Benefits
There are several benefits to Invisalign. Depending on your individual case, your doctor and you can decide the correct treatment option.
Less visible
Less frequent visits
Brushing tends to be easier as the trays can be removed when brushing
There are no food restrictions with Invisalign because they are removed when eating
What should I Expect?
You will get to see your entire treatment plan before you begin, thanks to the 3-D imaging. Every two weeks, you will replace the old aligner with the next aligner in the series. Each aligner will move your teeth slightly closer to their final position. You will visit the office every four to six weeks for the doctor to evaluate your progress.
You can expect treatment time to vary depending of the number of aligners that are needed in your individual treatment plan.
Not only are the aligners removable, they are very durable. Invisalign will not interfere with your usual daily activities.

Worried about having metal braces for Prom, yearbook photos, or playing sports? Invisalign clear aligners are virtually invisible and most people do not even notice them. Since they are removable, you can eat what you want without any worry of breaking a bracket or rubber band.
Invisalign aligners do not interfere with your daily life, since they are:
Clear – Virtually invisible and do not show up in photos
Removable – Eat what you want, when you want
Maximum Comfort – Since the aligners gradually shift your teeth, Invisalign is comfortable to wear
Customized – Each set is specific to you, so they are optimized for fast results
Worried That Invisalign Will Interfere with Extracurriculars?
Not only are the aligners removable, they are very durable. Invisalign will not interfere with any of your extracurricular activities. No matter if you are acting, playing soccer, running cross country or part of the school band, Invisalign will let you continue to do all the activities you love.

---